Father's Day is fast approaching. A quick stroll thru blogland will reveal some wonderful ideas for that special guy in your life. Here are just a few to check out to get those creative juices flowing.
Michell at Girl in Air will show you how to make this unique gift for dad. He is the light of your life after all!
Christy at
From Glitter to Gum Drops
has another use for those fav T shirts. Like this bag that could easily be geared to that special Dad.
She also featured another version of a T Shirt Quilt featuring soccer shirts like the one I posted here. Seems great minds think alike!

The Blackbery Vine
created this Golf Wreath for a Birthday but it would be great for that daddy who luvs golf for Father's day as well!
The possibilities on this one seem endless! Make dad a wreath using other themes too, baseball, billiards, maybe even a football wreath!
Trendy Tree House
has a collection of hand made Tshirts from over the years which are just as adorable as the children...and funny too!
Lil Luna
is featuring some yummy treats this week using Oreo Cookies I'm sure Dad would luv to have.

ALSO

while your out strolling Blogland be sure to stop over and sign up for the biannual handmade gift exchange hosted by craftaholics anonymous...I did! I can't wait to get started (and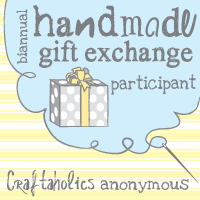 And I just KNOW how you luv a good PaRtY so be sure to stop on by to my good friend