So, it's that time of year again. I luv luv luv it!
Little League Opening Day 2011
for my little guy Austin.
Alright, I know, he's not so little anymore. 9 almost 10 but always my baby!
He's a Dodger this year and is really glad he has a blue uniform that matches his blue Phiten necklace.
(I know, he's like him momma...things gotta match)
Hey, even a nine yr old's got priorities!
It was sunny but a good bit chilly for the opening day parade. The kids march up the main street about a mile (estimate) to their baseball field. The fire trucks escort them & they love to do it. Each kid brings a canned good for the local food shelters which I think is a nice touching thing to do.
We spent most of the morning at the field for opening ceremonies.

Freezing our tushies off
After a quick sing-a-long to 'Take me out to the ballgame'
Hundreds of little kids from about 4 to 17 participate in games throughout the day.
My oldest, Alexis, AKA Boom boom had a great time too.
It doesn't take much to keep her happy. She like to support her brother in everything he does.
Notice her "Fucci" (faux Gucci) purse there...she luvs that thing!
on to my little craft of the day!
I know, these are not exactly new news.
Satin flowers have been all over the blogs...
I've been makin' them out the Kazoo with all different colors of satin and creating all different looks.
The burgundy flowers pictures remind me of poppies.
and what a cute little touch for all sorts of things from picture frames to hair adornments...
The flowers were already done, waiting for me to use them somehow!
Just in case you're not familiar with the process, I will post a tutorial on my blog here as well.
They are simply glues with some E6000 glue to the top of my cheapie flipper floppers!
By the way, this may be part of the reason I froze all day at the games...I couldn't wait to wear them! I'm really pushin' for those warm spring/summer flip flop wearin' days!
I have another idea for this cute summery look, I'll be back to share that with you as well!
So don't forget to come on over again. The door is always open!
Linking to the following:
http://www.bystephanielynn.com/2011/04/sunday-showcase-party-with-barn-owl.html?showComment=1302481006527#c5381210292224481481
http://tatertotsandjello.blogspot.com/2011/04/weekend-wrap-up-and-two-peas-in-pod.html
http://shabbynest.blogspot.com/2011/04/frugal-friday.html
http://becolorful.typepad.com/becolorful/2011/04/motivated-monday-april-11th-and-the-home-office-reveal.html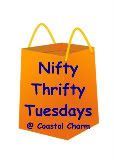 <a href="
http://www.skiptomylou.org/
" ><img src="
http://www.skiptomylou.org/wp-content/uploads/2010/01/button2.jpg
" /></a><br />
http://www.somewhatsimple.com/2011/04/blog-link-party-with-erin-bradley-designs/